GET YOUR
FREE

SMOOTHIE EBOOK
Cheesy Cauliflower Popcorn
November 22, 2013
For the Dutch version (Nederlandstalig), please scroll down.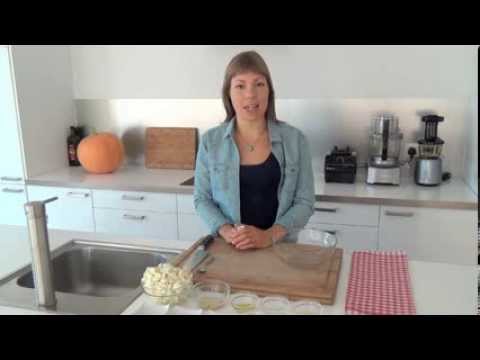 Let's make popcorn today! As a child I used to love popcorn, especially the sweet kind covered in caramel. As I grew older, my taste buds changed. I didn't crave sweet popcorn any longer, but I did fall in love with crunchy salty snacks like salted nuts, rice crackers and potato chips. This cheesy cauliflower popcorn is just that: salty and crunchy. It was the beautiful raw food chef Dara Dubinet who inspired me to create this recipe. Definitely check out her video too!
Cheesy Cauliflower Popcorn
SERVES: 1 large cup of popcorn
EQUIPMENT: large mixing bowl, dehydrator (or a regular oven at the lowest temperature)
INGREDIENTS:
1 small head of cauliflower
1 tablespoon of lemon juice
1 tablespoon of nutritional yeast
½ tablespoon of extra virgin olive oil
¼ teaspoon of paprika powder (you can used smoked too)
¼ teaspoon of Himalayan crystal salt or sea salt
2 large pinches of turmeric
1 large pinch of chili powder (or more if you like it spicy)
5 drops of pure liquid Stevia (optional, or replace with 1 teaspoon of date paste)
2 extra tablespoons of nutritional yeast (optional)
DIRECTIONS:
1. Cut your cauliflower into bite size pieces.
2. Combine lemon juice, nutritional yeast, olive oil, paprika powder, salt, turmeric, chili powder and Stevia in a large mixing bowl. Stir well with a spoon.
3. Add the cauliflower pieces and stir again, making sure that every single piece is covered with the marinade.
4. Place the cauliflower pieces onto a dehydrator tray lined with a Teflex sheet. Sprinkle with the extra nutritional yeast to create a deep cheesy flavor.
5. Dehydrate at 115°F for 8 hours or longer, until the cauliflower is nice and crispy. Your popcorn is ready!
JULIE'S TIPS & TRICKS:
• This cauliflower popcorn will stay fresh for at least 5 days in an airtight container in the refrigerator. If you leave it to dehydrate until it is completely dry and crunchy, you can store it in a glass jar in a cool dark place for at least 1 month.
• Turmeric, often called "the queen of spices", has very powerful health benefits: it will deeply cleanse your liver, boost your immune system & metabolism, reduce inflammation and help your body to prevent healthy cells from turning into cancer cells. Curcumin has a vibrant yellow color and a strong, slightly bitter taste, so you don't need much.
Now I would love to hear from you! What was your favorite salty snack growing up? Let me know by leaving a comment down below.
Tijd voor popcorn! Als kind was ik verzot op popcorn, vooral de zoete variant bedekt met karamel. Toen ik opgroeide, veranderde mijn smaak volledig. Ik had opeens geen zin meer in zoete popcorn, maar ik ontdekte een nieuwe liefde voor krokante zoute tussendoortjes zoals gezouten nootjes, rijstcrackers en aardappelchips. Deze Cheesy Bloemkool-Popcorn is zowel krokant als heerlijk zout. Ik werd geïnspireerd door de knappe raw food chef Dara Dubinet om dit recept te ontwerpen. Neem zeker ook een kijkje naar haar video!
Cheesy Bloemkool-Popcorn
PORTIE: 1 grote kop popcorn
MATERIAAL: grote mengkom, droogoven (of een gewone oven op de laagste temperatuur en warme-lucht-circulatie)
INGREDIËNTEN:
1 kleine bloemkool
1 eetlepel citroensap
1 eetlepel edelgistvlokken
½ eetlepel extra vierge olijfolie
¼ koffielepel paprikapoeder (gebruik gerust de gerookte versie)
¼ koffielepel Himalayazout of zeezout
2 grote snuifjes kurkuma
1 grote snuif chilipoeder (of meer voor een pikant resultaat)
5 druppels Stevia (optioneel, vervang eventueel door 1 koffielepel dadelpasta)
2 extra eetlepels edelgistvlokken (optioneel)
WERKWIJZE:
1. Hak de bloemkool in kleine 'bite size' roosjes.
2. Combineer citroensap, edelgistvlokken, olijfolie, paprikapoeder, zout, kurkuma, chilipoeder en Stevia in een grote mengkom. Meng goed met een lepel.
3. Voeg de bloemkoolroosjes toe en meng opnieuw. Zorg ervoor dat elk stukje bloemkool bedekt is met de marinade.
4. Plaats de bloemkoolroosjes op een droogovenplateau bedekt met een Teflex-blad. Besprenkel met de extra edelgistvlokken om een intense kaasachtige smaak te creëren.
5. Dehydrateer op 115°F gedurende 8 uur of langer, tot de bloemkool lekker krokant is. De popcorn is klaar!
JULIE'S TIPS EN TRUCJES:
• Deze bloemkool-popcorn blijft minstens 5 dagen vers in een luchtdichte pot in de koelkast. Als je de popcorn volledig krokant laat worden, kan je het minstens 1 maand bewaren in een glazen bokaal op een koele donkere plaats.
• Kurkuma, vaak de "koningin van de kruiden" genoemd, heeft talloze voordelen voor onze gezondheid: het reinigt onze lever, versterkt ons immuunsysteem, stimuleert de vetverbranding, verlaagt de ontstekingsgraad in ons lichaam en voorkomt dat gezonde cellen zich omvormen tot kankercellen. Kurkuma heeft een felgele kleur en een lichtjes bittere smaak, dus je hebt er niet veel van nodig.
Nu ben ik benieuwd naar jouw mening! Wat was jouw favoriete zoute tussendoortje als kind? Laat hieronder zeker een berichtje na.
4 Responses to "Cheesy Cauliflower Popcorn"
SIGN UP FOR
WEEKLY RECIPES
AND GET YOUR
FREE EBOOK